I have a confession to make.

The Lightbringer armor set is my favorite.

I know everyone loves the Judgement (tier 2) set and thought that it was the best, but I love that tier 6 goodness.

Why?


1. Lightbringer looks like armor.
Judgement set looked like cloth. The inquisitor look was forboding/intimidating, but it didn't look like it offered much protection. Lightbringer, on the other hand, looks like it's made of plate/metal. Sure it's a little gawdy/ornamented, but at least an arrow won't pierce it without a ton of force.
2. Lightbringer shines.
The paladin is a "warrior of the Light," and everything they do is s'posed to represent truth, justice, and the
American
Azerothian way. Judgement armor makes a paladin look like he's been hanging out at an S&M convention or inflicting some sort of torture on sinners. Lightbringer is shimmering golden platemail that literally
radiates light.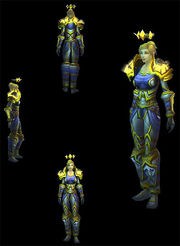 3. Tirion Fordring wears Lightbringer.
If it's good enough for the mightiest paladin currently alive in Azeroth, it's good enough for me.
4. Lightbringer is named after the greatest and first paladin.
Uther was a man. Uther was a paladin. Uther was awesome. There's a reason that there's a monument and memorial near the now-ruined city of Lordaeron commemorating his life and sacrifice.
5. Lightbringer's color scheme matches that of the paladin charger.
Black and red with blue and gold is not as cool as blue and gold with gold and blue.
Plus, while Lightbringer's halo-helm looked stupid, I can hide my helmet. I can't hide Judgement's skirt/kilt thing.
I kept my full season 3 Vengeful set together and wear that and my Sulfuras for vanity screenshots. I'm considering toting that stuff around with me whereever I go instead of my tank gear, just for kicks.
Because I think the pic looks good, here's my current avatar on a bunch of forums that proves Lightbringer looks better than Judgement. That's alls I'm sayin, yo.